As a boutique marketing agency, we love helping our clients develop the most effective campaigns so their businesses can reach their highest potential. Implementing a successful marketing campaign involves not only creativity and business acumen to come up with the best content and strategy but also the ability to reach your audience where they are and in today's world, most likely that place is a social media platform.
For years marketers struggled with finding time to juggle multiple tasks like planning when and how to efficiently post content across different platforms, analyzing their performance, identifying which pieces were best to use as evergreen content and actually making it happen… we wished for a tool that could facilitate our process and give us the gift of time. Well, our wish was granted and it's called Marketing Calendar by CoSchedule!
When we heard about it a few years ago we decided to give it a try and we have been hooked ever since. CoSchedule has so many cool and useful functionalities and has helped us save SO much time that we decided to share our experience and write about it! For full disclosure, we do get a discount in the fees we pay by sharing our thoughts, but in all honesty, this tool is so good we would do it for free!
What Is Marketing Calendar by CoSchedule?
Marketing Calendar by CoSchedule is a tool that helps marketers, bloggers and entrepreneurs manage content and social media strategy in real time and also well into the future with easy to use scheduling tools. It goes beyond being a simple social media post scheduler because it has many additional features that allows users not only to plan a successful marketing campaign but also to manage different projects simultaneously and create workflows that culminate in sharing your campaigns flawlessly across different social media platforms and even analyze performance and engagement after publication. Did we mention the fantastic time savings you achieve by using it? Yes we did!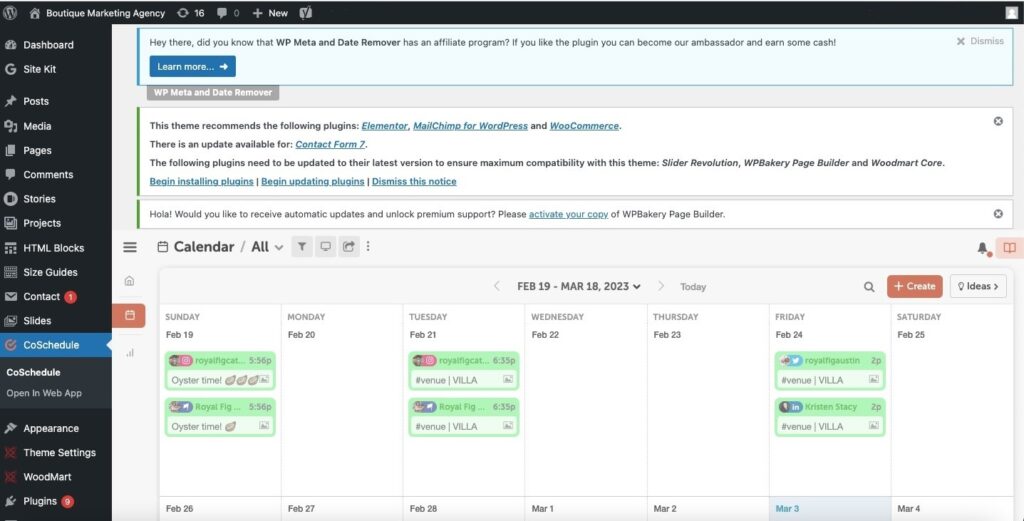 How Does It Work?
Marketing Calendar by CoSchedule is chock-full of cool features that will help you optimize the efficacy of your marketing campaigns and save lots of time in the process, it's a total game changer! Let's take a look at some of those features and how we use them:
One screen visualization: you can have a visual of your campaign elements (blogs, podcasts, social media posts, newsletters, you name it!) for multiple projects to plan and to easily adjust any events or tasks all in one place. Also, CoSchedule has easy to use filters that allow you to see as much or as little as you want; for us this is great as we can manage several accounts per client for all our clients and color code the items we see by type of content or by client.
Effortless social media scheduling and posting: we all know planning social media posts ahead of time is crucial, but not all platforms allow us to do this (we are looking at you Twitter!) But we don't fret about this anymore! With CoSchedule we can do all our planning and schedule social media posts at future dates across multiple accounts even if a specific platform doesn't offer that feature, sweet right?
Also, no more jumping from one platform to another to accomplish any tasks, with CoSchedule we can get it all done in one place by checking a few boxes and voila! A post will now be simultaneously pushed out in our client's social media accounts at once. Not only do we save time by scheduling our posts with a click of a button on one screen, but also by doing so we avoid spending the next hour or two checking the instagram feed when we intended to log in 'just for a minute' to publish that post (guilty as charged too? You're not alone going down that rabbit hole!)
Best time for social media posts: a social media post is only as good as the reach it has, and to optimize that reach you need to make sure your post shows up when your audience is most likely to see it. We like that we can schedule when a post goes live, but it's also great knowing that we can leave it in CoSchedule's hands by clicking on the "best time" feature for each post and CoSchedule will use traffic data analysis to make sure that post goes live at the optimal time for a specific profile in each associated social media account, it works like magic!
Reusing your best content with ReQueue: this feature is one of our favorites! With ReQueue we can reshare older social media posts as if they were new, which is so helpful and a time saver because it allows us to post more often from our client's social media accounts without having to do it manually. It also helps us redirect traffic to previous posts, especially those that have performed well in the past, helping us get the most from evergreen content and maintaining healthy traffic on their websites and/or social media accounts which in turn can be monetized.
Another cool benefit? Let ReQueue take care of your posts while you lay down at the beach on your next vacation or when you're juggling more things than you think you can handle when it's the peak of busy season for your business and social media presence is far low in your priorities list.
Perusing the headline analyzer and other social media analytics tools: CoSchedule's headline analyzer and other social media analytics tools are invaluable resources to help you improve the quality of your posts. They also give you insights into your social media channels content, helping you identify what your best performers are and which posts are most effective and engaging with your audience.
Manage projects and create workflows with the task template feature: this fantastic feature allows us to create task lists related to a project and assign tasks to team members, provide feedback, suggest changes and keep everyone informed and on track so nothing falls through the cracks until the project is complete. This is efficiency and timeliness in project management at its best!
Easy change of plans with drag and drop: sometimes plans change and CoSchedule is prepared to help us implement those changes with ease. We just have to drag and drop an event to the next date we choose and all the items in the campaign associated with that event automatically adjust, easy-peesy!
Flawless integration with WordPress and other platforms: another huge advantage of using CoSchedule is the software flawlessly integrates not only with all the major social media platforms but also with other platforms such as WordPress, Microsoft 365, Mailchimp, Constant Contact, Google Drive and Google Analytics (to name a few). We love this because we can manage Marketing Calendar and our social media campaigns directly from the WordPress dashboard; for example, we upload our blogs from Google Drive into WordPress and from there we access the CoSchedule plugin so we can publish them and plan the social media strategy attached to each one of them. It's the winning concept of having all your tools at your disposal so you can create, plan, schedule and distribute in the least amount of time all while aggregating the information in one place.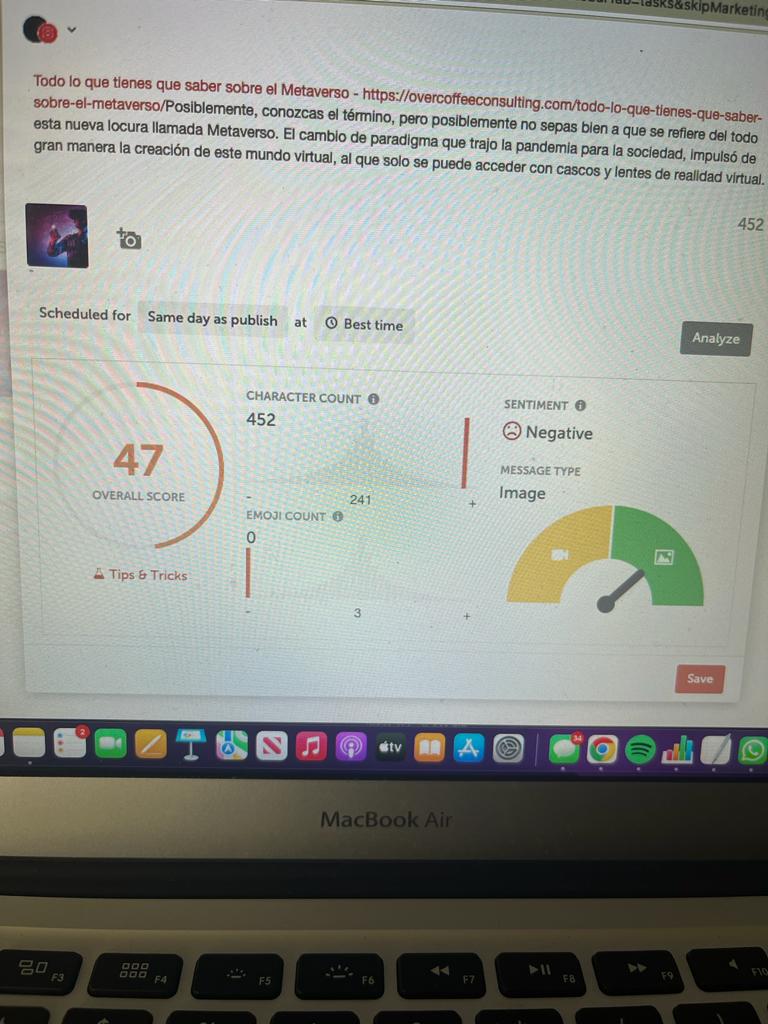 As you can see, CoSchedule is a fantastic tool and offers so much more than just a calendar function. Are there any improvements we would welcome? For sure! CoSchedule's creative suite could benefit from some improvements. It would be awesome if we could pull a full carousel of images from Instagram instead of just one picture to share on other platforms, or be able to pull reels from that same channel to be used in other channels. Also, CoSchedule works much better if you are working from your desktop, not so friendly when accessing it on your mobile which in today's mobile centric world is a downside. Having said that, we absolutely love CoSchedule and think that we get a full bang for our buck by using all the cool features it offers, and we hope that after reading this review, you know you should use it too! They have different plans that adjust to the needs of different types of customers, and it even includes a forever free plan or a free trial of their paying plans. Ready to give them a try? Click here and you'll be on your way!