Hispanics are the largest minority in the US and are expected to represent 28% of the population by 2050. The numbers are reflected not only in terms of population growth but also in economic power; as recently published in a report, the Latino community in the US contributed $2.8 trillion to the national GDP in 2020 and if this population were considered as a standalone country, it would have the 5th largest GDP in the world and the 3rd fastest growing among the 10 largest GDPs. The economic impact of the Hispanic population is not limited to their role as consumers: Latino-owned businesses in the US have experienced a very dynamic growth despite hurdles to access capital and are positioning themselves to become a driving force in the American economy in years to come.
We were recently invited by Venus Piñeyro (President of ALPFA Austin Chapter) to attend the LatinX Innovation Hub event at SXSW 2023 and left feeling inspired after hearing from disruptors leading innovation in areas such as business leadership, technology and finance as the Latino community came together to share ideas, talents, challenges and a thriving entrepreneurial spirit. We can't wait to share with you some insights from that wonderful event, so here we go!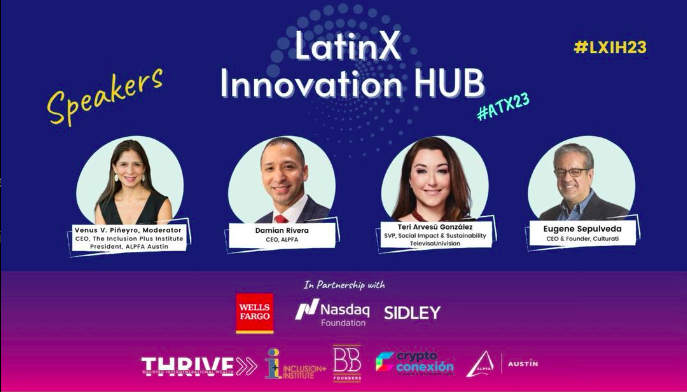 How to Engage the Hispanic Market and Latino-Owned Businesses in the US?
As the Hispanic population grows in numbers and buying power in the US, more and more businesses are looking to capture a share of that pie. In a nutshell, the key to engaging with Latinos in the US is learning about and incorporating their culture and traditions in your messaging, designing a strong digital marketing campaign (in particular a mobile campaign since they are avid digital media consumers, especially in their smartphones,) and elevating the benefit of being bilingual. 
When it comes to engaging the Hispanic market in the US, creating quality content is essential but not enough.
That quality content needs to be available in both English and Spanish as different generations are prone to using either of those languages and nothing is more effective in messaging than speaking to your audience in the language they prefer and feel most comfortable with. By recognizing the importance of communicating in English and in Spanish, businesses (Latino-owned or not) elevate the benefit of being bilingual.
Why are Latino-Owned Businesses Relevant?
As we mentioned before, Latino-owned businesses have experienced a very dynamic growth in the last few years. As indicated by LBAN's 2022 State of Latino Entrepreneurship Research Report, the numbers speak for themselves: nearly 5 million Latino-owned businesses around the country contribute north of $800 billion in revenue annually to the US economy. Also, from 2007 to 2019 the number of Latino-owned businesses grew by 34% (in contrast with White-owned businesses which declined by 7% in the same period) while in terms of revenue growth, Latino-owned businesses grew at a healthy 66% versus a 43% revenue growth rate for White-owned businesses. A final measure to consider is payroll growth: Latino-owned businesses payroll grew twice as fast as that of their White-owned peers.
Although most businesses were affected by the pandemic regardless of ownership origin, SLEI's Business Owners Survey in 2022 reported that Latino-owned businesses have experienced similar recovery rates to those of their peers (at times even better) during the period between 2019 and 2022, and sustained a median compound annual growth rate (CAGR) of 25% versus a modest 9% for White-ownded businesses during the same period.
Just as the Hispanic Market has become an essential driver of the US economy, Latin-owned businesses have experienced exponential growth and are gaining relevance in the American economy due to their contributions in terms of revenue growth and as a source of employment. But despite all of these advances, Latin business owners still face challenges. Let's take a look at those next.
Facing the Challenges to Latino-Owned Businesses Growth
The expression "Don't bring me challenges, bring me solutions" is traditional in the Latin culture and our community applies it to a T when it comes to facing the challenges that Latin entrepreneurs face in their business journeys.
Panelists across different sessions of the Inaugural LatinX Innovation Hub event coincided in identifying 3 key areas of opportunity for Latino-owned businesses growth: education, access to capital and community support/ networking opportunities. In following the traditional Latin way, different organizations that participated in the event are not only identifying those challenges but finding ways to address them. Let us show you some examples below.
The THRIVE Campaign is an initiative led by joint partners My Money My Future and Black and Brown Founders that focuses on creating financial education opportunities through webinars, workshops and events by partnering with companies, organizations and universities. The success of the Inaugural LatinX Innovation Hub, co-hosted by the Thrive Campaign in partnership with the Nasdaq Foundation at SXSW 2023, is a clear example of how effective this initiative is.
ALPFA (Association of Latino Professionals For America) was represented at the event by CEO Damian Rivera and Austin Chapter President Venus Piñeyro. This organization focuses on education and networking opportunities for Latinos. They offer resources geared towards connecting Latino students and professionals with colleges and corporations through fellowships, scholarships, internships and technical training programs as well as community engagement and business connections programs. ALPFA provides Latino entrepreneurs with the opportunity to connect with organizations whose mission is to promote the creation of advancement opportunities for this community such as the United States Hispanic Chamber of Commerce, the Latin Corporate Directors Association (LCDA), Angeles Investors and HACR to mention just a few.
The Inclusion Plus Institute was represented at the event by its founder & CEO, Venus Piñeyro. Ms Piñeyro moderated a session on how promoting education about diversity, equity and inclusion is a key element in today's business world not only for the growing majority of diverse employees and how they could be catalysts for change but also for corporations who could largely benefit from empowering this diverse workforce to drive innovation.
BCL of Texas, represented at the event by President & CEO Rosa Rios Valdez, focuses on providing financial education and avenues to access capital with emphasis on diversity, equity and inclusion to small businesses and entrepreneurs, so they can acquire wealth-building assets and continuously grow their businesses and their communities. Entities like BCL play a crucial role for Latino entrepreneurs filling the financial gap as options to access capital are often a big hurdle (the odds for loan approval from a national bank are 60% lower for Latino-owned businesses and such businesses receive less than 2% of the available Venture Capital funding in this country). Organizations like BCL are making a world of difference in Latino entrepreneurship's opportunities for success.
Investors of Color, represented at the event by Co-Founder and Managing Partner Eli Velasquez is another organization playing the essential role of closing the gap in startup capital for entrepreneurs of color who, as we mentioned before, often have difficulty obtaining access to financial resources. Mr. Velasquez was one of the panelists in a session discussing Latino Innovation and the Tech sector, taking a look at the exponential growth of the LatinX tech ecosystem and its perspectives into the future.
LBAN (Latino Business Action Network) represented at the event by CEO Arturo Cazares, partners with Stanford University and offers a myriad of opportunities and support to the community through the Stanford Latino Entrepreneurship Initiative within their business school's Center for Entrepreneurial Studies. In addition to staying constantly connected to the Latino Business community through their research initiative, LBAN offers programs for continued education and networking that provide Latino entrepreneurs with a vast array of opportunities for growth not only in terms of knowledge and business acumen, but also mentorship and pathways to access capital through their growing alumni network and capital partners. Mr. Cazares participated in a panel discussing finance, fintech and how to drive entrepreneurship and asset ownership as well as alternatives to close the wealth gap.
As we mentioned initially, after attending the LatinX Innovation Hub event at SXSW 2023 we left inspired. Despite the challenges that are still very much present, particularly in terms of percentage of participation and access to capital, Latino entrepreneurship is thriving in the US and we couldn't be more excited and proud of belonging to a community with such drive, deep sense of support and so many wonderful prospects into the future. We can't wait to continue growing our relationships with these organizations and work together to bring more opportunities for growth for Latino entrepreneurship.
Are you ready to engage with the Hispanic Market and Latino-owned businesses or are you a Latino entrepreneur looking to grow your business? Let's talk!